A coach, a mum, a leader and an empathetic provocateur dedicated to helping you to grow the fulfilling career you deserve.
One of the things I am often asked is "how do you do it all?".
The truth is, I don't. I have to choose and prioritise what I do and when. This might mean I don't do the cleaning (often) or the cooking (occasionally). But it also means there are some things I always do:
Set boundaries about when I am working and when I'm not...
Make time for me (because being a working mum is exhausting and relentless without a break!)
Aim for an 80:20 balance with everything - it doesn't have to be 100% all of the time.
After being made redundant from my role as a pharmaceutical scientist I began exploring my purpose and realised I wanted to do something more. I wanted to help people find what makes them happy and so I went into career coaching. I've supported over 5000 people since I started. This self-reflection was reignited when I became a parent in 2013 and found myself feeling guilty, overwhelmed and frustrated in my role. I got some coaching and learnt to let go of my identity as 'just' a coach and as 'just' a mum. I learned to stop feeling guilty about pursuing a career for me and embrace the challenge of being self-employed.
Fast forward to today and I am a proud mum to 3  girls and enjoy the giggles and memories that come with motherhood but I am also a passionate, determined woman who wants to make a difference. I am partial to a vegan cupcake (or three) and do lots of running in my spare time which you can find on Instagram.
I can help you work mindfully through any mental or emotional blocks that are holding you back, empowering you to develop the clarity, confidence and vision you need to get where you want to be. I'm dedicated to helping you achieve your potential, to discover your strengths, allowing you to lead a fulfilling and authentic life and increasing your wellbeing.
I am passionate about holding the space for you to think about yourself and encouraging you to be yourself, not someone's mum, boss, employee but you. I want you to understand your worth and help you stay focused.
When you are with me I want you to feel like you and I are the only people in the world, that you have all the time in the world, and that you matter, because you do.
Once you are clear about what makes you stand out, it becomes much easier to create a step-by-step plan to get to where you want to be and achieve change beyond what you thought was possible.
My work is based on the principle that the answer to the question lies inside all of us and that by giving you the time, space and tools to reflect you will make progress. My mission is to give you the confidence to know that whatever it is you want to do, you can.
My approach is gentle but effective. I work mindfully and use a combination of traditional and creative coaching techniques tailored to your needs.
I offer:
In addition, I offer professional development courses for individuals and businesses
Why working with women is important to me
I believe that working mums are massively underrated in the workplace (and everywhere else to be honest!).
I didn't understand before I became a parent the challenges involved. Sure, you have a baby but otherwise, you're the same, right? Wrong. Well, that's what I found anyway. Once I held my daughter everything changed. She became my number one priority. This was confusing because my work had always been so important to me. Now though I couldn't find my way. I was resentful that I wasn't getting bigger projects (but worried about how I'd find time even if I did); I was being penalised for being a working mum because I worked part-time.
But I know that now one of my parent superpowers is being able to get more done in an afternoon than pre-parent me would have done in a week! I felt guilty; I was leaving work and driving too fast to pick up my daughter in the evenings and leaving her in the mornings and crying all the way to work. I was going through the motions at work but it didn't feel right.
I wasn't reaching my potential. I thought I couldn't be a mum and have the career I wanted. I thought I had to make do. I didn't recognise the skills (nay, superpowers) that I had gained through becoming a parent. Truth is, even if I had realised them at that point I was so confused and guilty I wouldn't have been able to tell anyone.
So often as women (and mums) we talk ourselves down. We offer to make the tea, take notes. We doubt ourselves. It's not just imposter syndrome, it's more than that, it's how we bring our children up and how we view ourselves and others in the hierarchy of society! But that's a soapbox for another day.
My point here is that we settle. We settle for not being promoted when we are more than enough; we settle for being the one who tries to do it all at home and at work. We leave ourselves frustrated, burnt out and wondering how it got to this.
This is why working with women is so important to me. We undersell our skills, downplay our strengths and believe we are not capable of more. But this isn't true and I'm on a mission to show you.
Three things I am really proud of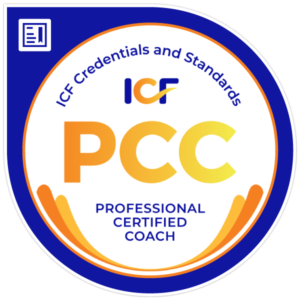 In late 2020 I received my Professional Certified Coach accreditation via the International Coaching Federation. This means I have spent over 500 hours coaching, have passed an exam and done 10 hours of mentoring and supervision.
I upgraded my skills to be a personal and business coach in 2015, adding to the careers adviser qualification I had achieved in 2009. Both of these qualifications were done whilst working - the coaching whilst pregnant with my second daughter.
I love developing others! I have worked with the Institute of Physics, Animal Free Research UK, Cambridge Women's Resource Centre and Tribal Hearts Festival to name but a few to deliver workshops to teams and attendees.